Silurian Stratigraphy and Core Workshop
---
May 17, 2018




10:00 am - 4:00 pm

THE OHIO GEOLOGICAL SOCIETY
is sponsoring a
SILURIAN STRATIGRAPHY AND CORE WORKSHOP
hosted by
ODNR DIVISION OF GEOLOGICAL SURVEY
Instructed by: Dr. Carlton Brett, Professor of Geology, University of Cincinnati
   
WHEN: Thursday, May 17, 2018, 10:00 a.m.–4:00 p.m.
WHERE: H. R. Collins Core & Sample Repository, 3307 S. Old State Road, Delaware, Ohio 43015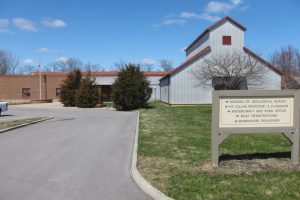 COST: $25, includes materials, light refreshments in morning and afternoon, and a lunch of Cheshire Market pizza.
Registration: Limited to 20 attendees. Register online using the Ohio Geological Society website: https://ohiogeosoc.org/events/silurian-stratigraphy-and-core-workshop/
Who should attend: Professionals and students interested in the complex facies changes in the Silurian section particularly in central and western Ohio.
Workshop overview: Dr. Brett will summarize the paleogeography and depositional environments of the Silurian System in Ohio and surrounding areas. Attendees will separate into small groups to examine in detail two cores (one from Greene County and one from Pickaway County) focusing on uppermost Ordovician through lower Silurian units, from the Centerville Shale to the Cedarville Dolomite and all strata in between, which are identified in central and western Ohio.
Under the guidance of Dr. Brett and Ohio Geological Survey staff, attendees working in small groups will match geophysical logs of the cores with the lithologies present in the cores, determine contacts, and recognize diagenetic features, sedimentary structures, and fossil indicators. Sequence and event stratigraphy principles and interpretations will be applied to the lithologies in the cores along with chronostratigraphic comparison of the two cores.
We're sorry, but all tickets sales have ended because the event is expired.
Venue Phone: 740-548-7348 ext. 130
Venue Website: http://geosurvey.ohiodnr.gov/core-samples/hr-collins-lab-home
Address:
3307 S. Old State Road
,
Delaware
,
Ohio
,
43015-7635
,
United States
Description:

The ODNR Division of Geological Survey Horace R. Collins Laboratory is a multi-use facility located at Alum Creek State Park in Delaware County, Ohio. Core, sample, and twelve other collections are housed at the Ohio Geological Sample Repository. One wing of the facility has laboratories for core and sample description and analysis, petrographic studies, aggregate testing, and sedimentation research. A second wing houses Division of Watercraft Central District offices. The Collins Lab also headquarters the Ohio Seismic Network and the Lake Erie Data Center.